When it comes to Wedding Transport, there are many options …. here are a few things for you as a Groom to consider.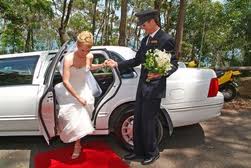 How many people are in your Bridal Party determines how your Wedding transport will flow on the day. Firstly, you will need to consider whether you are going away for Photos, and if the answer is yes, you will need to be able to accommodate all your Bridal Party … this is where a Stretch Limousine is ideal as you can all fit in.
 Groom's Party Transfers – generally we would take the Groom's Party to the Ceremony location first, then return for the Bridal Party … this time will allow for the Photographer to obtain some great shots of the Groom's party and a chance to greet your guests before your beautiful Bride arrives. You definitely don't want wetness under your arms from walking to your ceremony location, even through it might be just a short distance as this makes for a very uncomfortable and embarrassing start to the day. Our Chauffeurs will ensure you also have the most important items of the day – the rings!
Bridal Party for which our Stretch Limousine has the extended Bridal door so there is no issue with whatever size dress the Bride decides on.  Our Chauffeurs will make sure all your Bridal Party arrives to the Groom safely and on time.
Comfort is a must to consider. If you are in an area that requires air conditioning, then you are definitely going to want this on your Wedding Day. Even though the thought of a convertible may seem appealing, if it is raining or the wind is blowing, just think about how much you have just spent on your Bridal Party's hair and makeup.
Inclusions are all Complimentary with Noosa VIP Limousines – for example, Red Carpet for your Brides arrival ~ Tulle & Flowers ~ Ribbons to match your Wedding colour theme ~ Champagne ~ Chauffeurs in Navy suits and matching Chauffeur Caps.
We are Multi-Award Winning and pride ourselves on
~ Value for Money ~ Excellence in Client Service ~ Quality of transport ~
We service all Sunshine Coast Wedding Locations including Noosa, Hinterland venues, Wedding photo locations and Chapels.
noosaviplimousines.com ~ pinterest.com/noosalimousines ~ facebook.com/noosaviplimousines