Prepare for wet weather. Plan and prepare for a wet wedding and chances are that you will have great weather on your wedding day.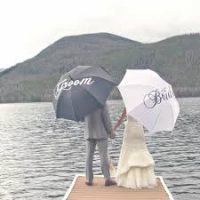 Here's my 7 best wet weather wedding ideas:
1.  Have a wet weather Plan B for your ceremony … if you have an indoor Venue for your Reception, generally you can use this area as well for your Ceremony, then the Bridal Party can go away for more Wedding Photos.
2. Book a wet weather location for your Location Photos … a lot of resorts will allow you to use their areas for your Wedding Photos. You need to ask though just to make sure.
3. Book your Limousine transport long enough beforehand so in the case of wet weather, the Limo will take you door to door to your Ceremony and then take you away for your Wedding photos … allow enough room for your Photographer if possible in the front so you can stop for any candid photos that you wouldn't have normally obtained … have some fun!
4. Be Brave! … talk to your family and guests as they don't want to get their hair and outfits wet either, but if it is only light occasional drizzle and you have you heart set on your location, umbrellas work and look great if used creatively in your wedding photos.
5. Think About Your Hair … Wear your hair up is my best and most important tip!  no use trying to have curls if it is wet weather, as they wont last and you still want to look stunning at your reception despite a few rain drops.
6. Take a Photo at Night in the Rain … a fabulous look which will add to your day.
7. Stay Positive …. no one else really knows what you had planned so just go with the flow and have an awesome Wedding day. You are getting Married, remember, and that is the most important thing, not how wet the grass is.
Wishing you a very happy Wedding Day, Rain or Shine